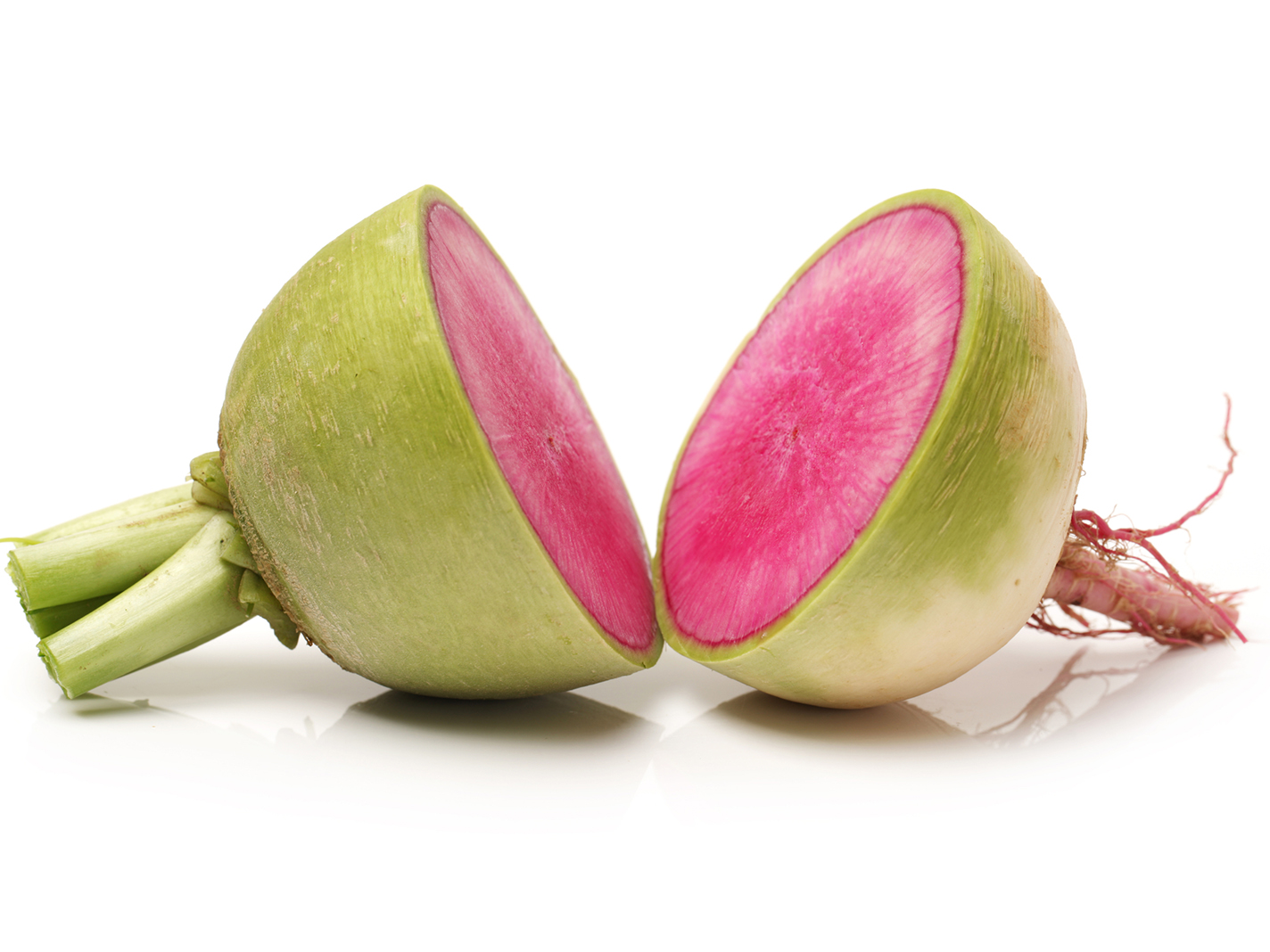 Watermelon Radish
The Watermelon radish is made up of an edible globular root attached to thin stems and wavy green leaves. Its exterior is creamy white in color with pale green shoulders, a sign of the chlorophyll it received from exposure to the sun. The Watermelon radish's flesh is white closest to the exterior becoming bright circular striations of pink and magenta, hence the watermelon reference. Its flesh is tender-crisp, succulent, and firm. Its flavor is mild, only slightly peppery with almond-sweet notes. Depending on when harvested, Watermelon radishes can range in size from golf ball to softball. Look for Watermelon radishes with smooth skin free of deep cracks and for an exceptionally pink interior look for radishes with pink taproots.
---
Cultural Info
The Watermelon radish's Chinese name, Xin Li Mei or Shinrimei, translates to mean "in one's heart beautiful" a reflection no doubt of the radishes unique fuchsia internal coloring. Watermelon radishes can be served fresh or cooked, hot or cold. Cooking the Watermelon radish will enhance its natural sweetness and temper some of the spice. Sliced thin they are perfect for showcasing their vibrant color in salads, atop sandwiches, or alongside sushi. This variety is also popularly sliced and pickled then utilized as a colorful condiment. Sliced or chopped radishes can also be added to soups and stir-fries. In Chinese cuisine radish is commonly cooked or served along with seafood as it is said to impart sweetness and remove fishiness from a dish. The greens of the radish additionally can be used and are popularly added to soups, stews, and stir-fries. Watermelon radishes pair well with fennel, apple, cheeses such as feta and chèvre, butter, cream-based dressings, vinaigrettes, bacon, white fish, cucumbers, mild salad greens, cooked eggs, noodles such as soba and udon, citrus, cilantro, mint, and tarragon. To store, keep watermelon radishes refrigerated and use within one week.
---
Geography
Watermelon radish originated in China where it was known as Shinrimei radish. In America, its official name in seed catalogs was originally Red Meat radish. Once it caught on as a popular farmer's market item for marketing reasons vendors began to sell it under the name Beauty Heart or Watermelon radish. It is still however listed most often in seed catalogs under the name Red Meat radish. The Watermelon radish is a cool season crop preferring soil temperatures below 68 degrees Fahrenheit but above freezing. Overly warm soil temperatures affect the radish's flavor and texture, turning a mild pepper flavor often into a bitter sting of spice and a pithy, dry texture.
---