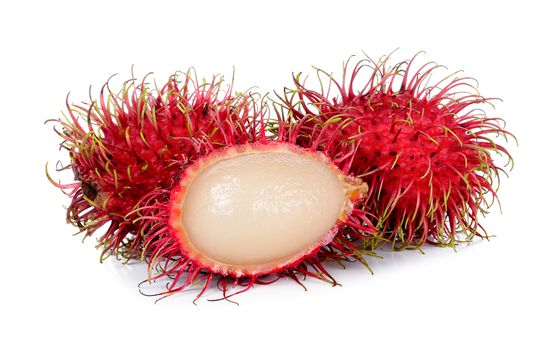 Rambutan
Rambutan is a medium-sized tropical tree in the family Sapindaceae. The name also refers to the edible fruit produced by this tree. The rambutan is native to the Malay-Indonesian region, and other regions of tropical Southeast Asia. It is closely related to several other edible tropical fruits including the lychee, longan, and mamoncillo. The name "rambutan" is derived from the Malay-Indonesian languages word for rambut or "hair", a reference to the numerous hairy protuberances of the fruit, together with the noun-building suffix -an. In Vietnam, it is called chôm chôm (meaning "messy hair") due to the spines covering the fruit's skin
---
Origin and distribution
Native to tropical Southeast Asia, rambutan is commonly grown in various countries throughout the region. It has spread from there to parts of Asia, Africa, Oceania, and Central America. The widest variety of cultivars, wild and cultivated, are found in Indonesia and Malaysia. Around the 13th to 15th centuries, Arab traders, who played a major role in Indian Ocean trade, introduced rambutan into Zanzibar and Pemba of East Africa. There are limited rambutan plantings in some parts of India. In the 19th century, the Dutch introduced rambutan from their colony in Southeast Asia to Suriname in South America. Subsequently, the plant spread to tropical Americas, planted in the coastal lowlands of Colombia, Ecuador, Honduras, Costa Rica, Trinidad, and Cuba. In 1912, rambutan was introduced to the Philippines from Indonesia. Further introductions were made in 1920 (from Indonesia) and 1930 (from Malaya), but until the 1950s its distribution was limited. There was an attempt to introduce rambutan to the southeastern United States, with seeds imported from Java in 1906, but the species proved to be unsuccessful, except in Puerto Rico.
---
Nutrients and phytochemicals
Rambutan fruit contains diverse nutrients but in modest amounts, with only manganese having moderate content at 16 percent of the Daily Value per 100 g consumed (right table; note data are for canned fruit in syrup, not as raw which may have different nutrient contents). As an unpigmented fruit flesh, rambutan does not contain significant polyphenol content, but its colorful rind displays diverse phenolic acids, such as syringic, coumaric, gallic, caffeic, and ellagic acids having antioxidant activity in vitro. Rambutan seeds contain equal proportions of saturated and unsaturated fatty acids, where arachidic (34%) and oleic (42%) acids, respectively, are highest in fat content. The pleasant fragrance of rambutan fruit derives from numerous volatile organic compounds, including beta-damascenone, vanillin, phenylacetic acid, and cinnamic acid.
---
Nutritional value per 100 g (3.5 oz)
| | | |
| --- | --- | --- |
| Energy | 343 kJ (82 kcal) | |
| Carbohydrates | 20.87 g | |
| Dietary fiber | 0.9 g | |
| Fat | 0.21 g | |
| Protein | 0.65 g | |
| Vitamins | | |
| Thiamine (B1) | 0.013 mg | (1%) |
| Riboflavin (B2) | 0.022 mg | (2%) |
| Niacin (B3) | 1.352 mg | (9%) |
| Vitamin (B6) | 0.02 mg | (2%) |
| Folate (B9) | 8 μg | (2%) |
| Vitamin C | 4.9 mg | (6%) |
| Minerals | | |
| Calcium | 22 mg | (2%) |
| Iron | 0.35 mg | (3%) |
| Magnesium | 7 mg | (2%) |
| Manganese | 0.343 mg | (16%) |
| Phosphorus | 9 mg | (1%) |
| Potassium | 42 mg | (1%) |
| Sodium | 11 mg | (1%) |
| Zinc | 0.08 mg | (1%) |
---