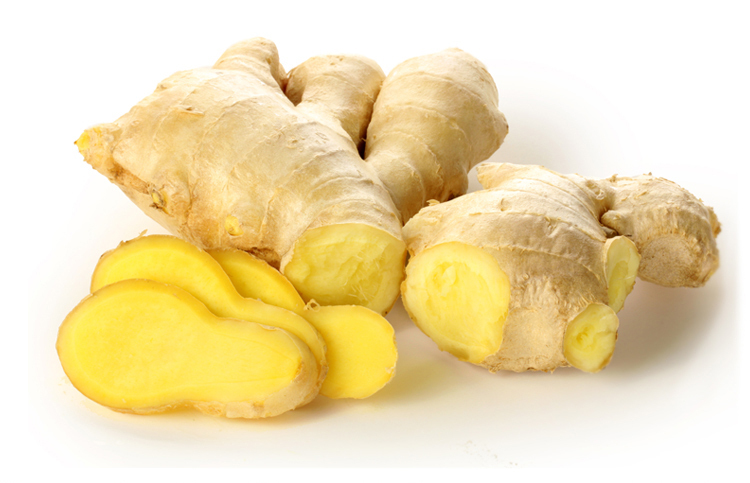 Gingir
Ginger is a flowering plant whose rhizome, ginger root or simply ginger, is widely used as a spice or a folk medicine. It is a herbaceous perennial which grows annual pseudostems (false stems made of the rolled bases of leaves) about a meter tall bearing narrow leaf blades. The inflorescences bear pale yellow with purple flowers and arise directly from the rhizome on separate shoots. Ginger is in the family Zingiberaceae, to which also belong turmeric (Curcuma longa), cardamom (Elettaria cardamomum), and galangal. Ginger originated in the tropical rainforests from the Indian subcontinent to Southern Asia where ginger plants show considerable genetic variation. As one of the first spices exported from the Orient, ginger arrived in Europe during the spice trade, and was used by ancient Greeks and Romans. The distantly related dicots in the genus Asarum are commonly called wild ginger because of their similar taste.
---
Etymology
The English origin of the word, "ginger", is from the mid-14th century, from Old English gingifer, from Medieval Latin gingiber, from Greek zingiberis, from Prakrit (Middle Indic) singabera, from Sanskrit srngaveram, from srngam "horn" and vera- "body", from the shape of its root. The word probably was readopted in Middle English from Old French gingibre (modern French gingembre).
---
Origin and distribution
Ginger likely originated as ground flora of tropical lowland forests in regions from the Indian subcontinent to southern Asia, where its cultivation remains among the world's largest producers, including India, China, and other countries of southern Asia. Numerous wild relatives are still found in these regions, and in tropical or subtropical world regions, such as Hawaii, Japan, Australia, and Malaysia.
---
Production
In 2014, with a global production of 2.2 million tonnes of raw ginger, India accounted for 30% of the world total, followed by China (19%), Nepal (13%), Indonesia (12%), and Thailand (7%).
---
Nutritional Information
Raw ginger is composed of 79% water, 18% carbohydrates, 2% protein, and 1% fat (table). In 100 grams (a standard amount used to compare with other foods), raw ginger supplies 80 Calories and contains moderate amounts of vitamin B6 (12% of the Daily Value, DV) and the dietary minerals, magnesium (12% DV) and manganese (11% DV), but otherwise is low in nutrient content (table). When used as a spice powder in a common serving amount of one US tablespoon (5 grams), ground dried ginger (9% water) provides negligible content of essential nutrients, with the exception of manganese (70% DV).
---